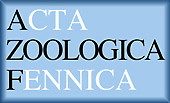 Due to their size, Acta isuues are not available online in PDF format. Only abstracts are available here
Monograph series appearing in irregular intervals
Database coverage includes Biol. Abstr.
Scope
— ecology, including conservation biology,
— game and fisheries research,
— ecological physiology, including the effects of environmental pollution,
— faunistics,
— ecological systematics,
— taxonomy,
— and related subjects.